Making Fun of Roman Comedy: Humor and Abuse, Free Lecture by Dr. Hans Bork
November 6 @ 7:00 pm

-

8:30 pm

Free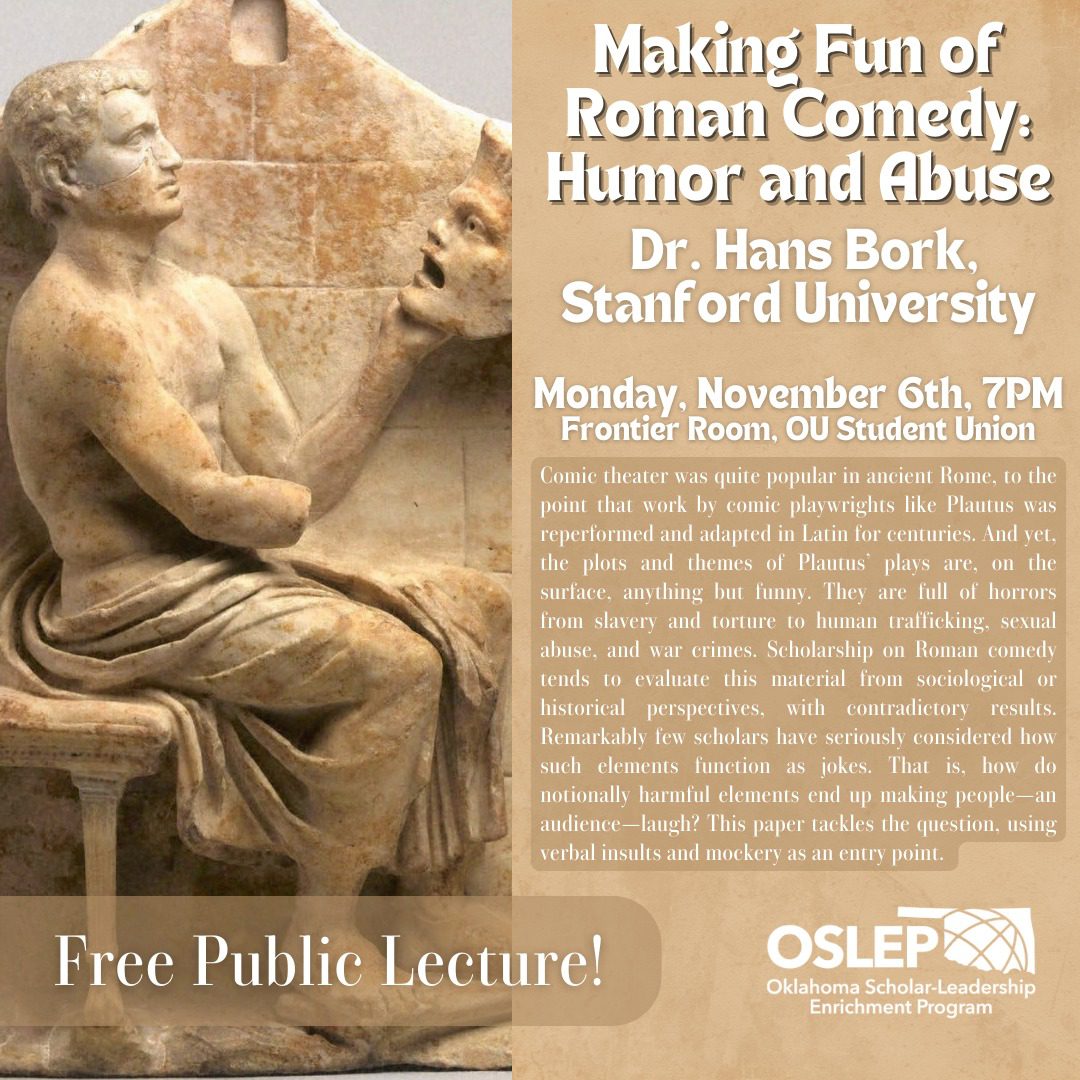 **FOR IMMEDIATE RELEASE**
**"Making Fun of Roman Comedy: Humor and Abuse"**
Norman, Oklahoma – September 28, 2023 – The Oklahoma Scholar Leadership Enrichment Program is set to host an enlightening lecture titled "Making Fun of Roman Comedy: Humor and Abuse." This event will take place on Monday, November 6th at 7pm in the Frontier room of the University of Oklahoma Memorial Union and is open to the public free of charge.
Comic theater in ancient Rome was a popular form of entertainment that has left a lasting impact on the world. Playwrights like Plautus created works that were reperformed and adapted in Latin for centuries. These plays have been translated into English by renowned figures such as Shakespeare and Sondheim. However, upon closer examination, the plots and themes of Plautus' plays reveal a dark side. They delve into topics such as slavery, torture, human trafficking, sexual abuse, and war crimes.
Scholarship on Roman comedy has often approached this material from sociological or historical perspectives, yielding contradictory results. Surprisingly, few scholars have explored how these seemingly harmful elements function as jokes. How do they manage to elicit laughter from audiences? This event aims to address this question by focusing on verbal insults and mockery as an entry point.
The lecture will be given by Dr. Hans Bork, Assistant Professor of Classics at Stanford University, who will shed light on the intricate relationship between humor and abuse in Roman comedy. Attendees can expect thought-provoking discussions and insights into the mechanisms behind comedic elements that touch upon sensitive subjects. "We believe it is crucial to examine the nuances of humor in ancient Roman comedy," said Dr. Hans Bork. "By exploring how seemingly offensive elements can generate laughter, we hope to gain a deeper understanding of the cultural context and social dynamics at play during that era."
This event promises to be an enlightening experience for anyone interested in ancient Roman comedy, humor studies, or the intersection of comedy and sensitive topics. Don't miss this unique opportunity to delve into the world of Roman comedy and gain fresh perspectives on its comedic mechanisms.
For more information about this event, please visit www.oslep.org.
**Media Contact**
Karl Schmidt, Assistant Director, Oklahoma Scholar Leadership Enrichment Program. Karl.schmidt@ou.edu
**Event Details**
Title: "Making Fun of Roman Comedy: Humor and Abuse"
Date: Monday, November 6th
Time: 7pm.
Location: Frontier Room, University of Oklahoma Memorial Student Union.
Admission: Free and open to the public