Class Details
The Memoir as Manifesto: Expressing Our Beliefs through Personal Narratives
Since ancient times (beginning with the Confessions of St. Augustine) writers have used their individual life-experiences and narratives to explore and express beliefs: philosophical, political, religious and civic. This tradition re-emerged with special force in the Enlightenment period (with works like Rousseau's Confessions) and has gathered force in the tumultuous 20th/21st Centuries.
This class will focus on a series of recent memoirs (some of them bestsellers) which play this double role: recounting interesting lives and setting forth manifestos (beliefs that are philosophical, political, religious, and citizenship-related). I have chosen them for their special relevance to the political/cultural debates that seem to engulf us all these days, and for their breadth of human experience. Among this diverse group, you will find political views that span the spectrum (left, right, center), and that span a range philosophical/religious views.
The major works we will read together are the following:
Ibrahim X. Kendi's How to Be and Anti-Racist
David Brooks' The Second Mountain
Rilla Askew's Most American: Notes from a Broken Place
Enrollment
Enrollment through your home campus
OSLEP provides all required reading materials at no additional cost – NO books to
Important dates:
January 2, 2021 -9pm CST zoom meeting
January 3, 2021 7-9pm CST zoom meeting
January 4, 2021 7-9pm CST zoom meeting
January 5, 2021 7-9pm CST zoom meeting
January 16, 9am-4pm CST in-person (Norman OU campus)
Start Date
January 2, 2021
End Date
January 16, 2021
Location
Hybrid Course: zoom/in-personj - University of Oklahoma, Norman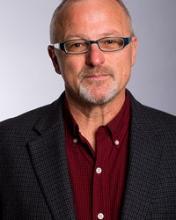 Oklahoma City University

Dr. Mark Griffin is Professor of Spanish at Oklahoma City University, where he has taught since 1996. He co-authored the book Living on the Borders (Brazos Press, 2004), has published several articles in the areas of border studies and Latin American literature, and has co-produced the documentary Here For Good: The Latino Experience in Oklahoma (2016). In addition to his writing, he has led community-engagement projects with/in the Latino community in Oklahoma City. His research focuses on national identities, and with a major dilemma faced by immigrant minorities: how to navigate between the twin perils of cultural loss and cultural isolation. Born and raised in Mexico, his creative work has focused on the personally-experienced phenomenon of crossing borders.